Pond Fountain Sales in Columbus, Ohio
Pond Fountain Installation in Columbus, Ohio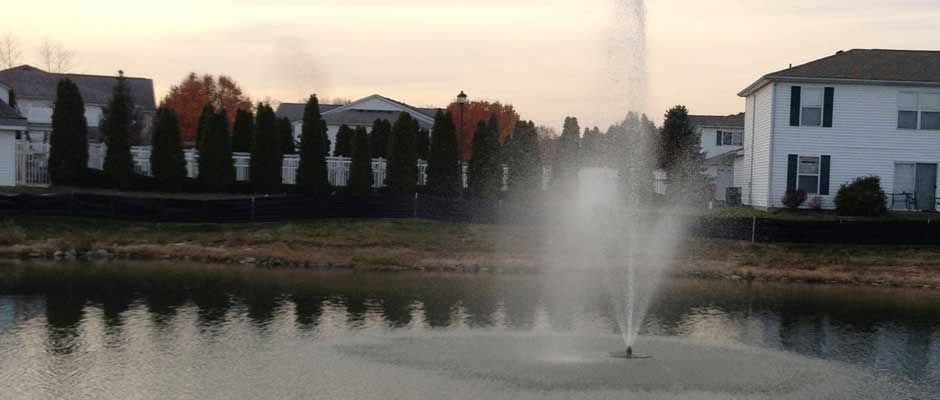 There is nothing as visually mesmerizing as a pond fountain. Pond fountains are a great way to make your lake or pond look and feel more alive, and are not only affordable – they are also a long lasting way to turn a normal body of water into one that will be remembered by everyone that sees it.
Pond Fountain Sales From MH Aquatics
MH Aquatics is the leading manufacturer of natural water fountain sales in Columbus and Delaware, OH. Our company is dedicated to providing you with perfect fountains to compliment your pond or lake. We supply all of the major brands, including Aqua Control, Oase, Otterbine Barebo, and more. We work with both commercial and residential properties, transforming landscapes and helping you make a visual impact that lasts.
We provide:
Pond Fountain Sales – For those that need to buy a pond fountain in areas like Delaware and Columbus, we have some of the most affordable rates available.
Pond Fountain Installation – We will install the pond fountain with ease so that you don't have to worry about whether or not it has been set up correctly.
Pond Fountain Repair – We are also happy to repair pond fountains as needed, and we have all of the pond fountain parts that will ensure your fountain will remain active.
Our fountains are great for transforming a new or old home landscape, and can also be a valuable addition to your commercial property that can change the way customers see you and draw people's attention as they drive by.
Pond fountains are a simply a great way to add personality and character to any body of water. At MH Aquatics, we'll provide your Columbus, Ohio or Delaware, Ohio property with the perfect pond fountain to ensure your complete satisfaction. Give us a call today at (614) 290-6712, and find out more about our product inventory and how we can provide you with an amazing new fountain.
Free Assessment
Request a free, no obligation assessment of your pond or fountain.
Contact Us!
Serving Central Ohio


MH Aquatics proudly serves Columbus, Delaware, Dublin, Grove City, New Albany, Pickerington, Reynoldsburg, Sunbury and the surrounding areas.
Contact us to learn about the pond and lake services available in your area.